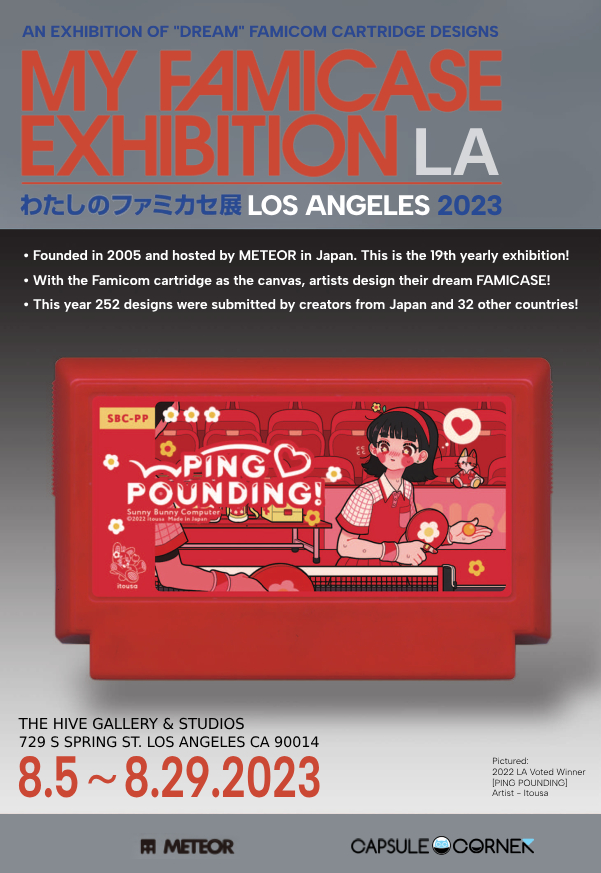 MY FAMICASE EXHIBITION RETURNS TO LOS ANGELES FOR THE 2ND YEAR AND WE ARE SO EXCITED TO BRING OVER ALL 252 DESIGNS FROM JAPAN FOR YOUR VIEWING PLEASURE!

STARTED IN 2005, BY METEOR, A GALLERY AND SHOP IN TOKYO, JAPAN, MY FAMICASE EXHIBITION IS AN ANNUAL ART SHOW OF FAN-MADE NINTENDO FAMICOM CARTRIDGE DESIGNS WITH SUBMISSIONS FROM ALL OVER THE WORLD.

ATTENDEES ARE ENCOURAGED TO INTERACT WITH THE WORKS AND TO HANDLE THE CARTRIDGES FOR A MORE INTIMATE EXPERIENCE. WITH A BRIEF DESCRIPTION OF THE GAME ON THE BACK, CLOSER INTROSPECTION OF THE WORK TRIGGERS ONES IMAGINATION OF WHAT THE GAME CONTAINED MIGHT BE HARKENING THE CHILDLIKE WONDER OF LOOKING AT GAMES ON STORE SHELVES IN ONES ADOLESCENCE. ATTENDEES ARE ALSO ENCOURAGED TO VOTE ON THEIR TOP 3 FAVORITES WITH A WINNER ANNOUNCED FOR THE LOS ANGELES REGION!
---
LOCATION
CAPSULE CORNER MICRO-GALLERY
INSIDE
THE HIVE GALLERY
729 S SPRING ST LA CA 90014
GENERAL VIEWING
WEDNESDAY – SATURDAY
1PM – 6PM