'A Cat's Day' 2nd Draft Page 3
$200.00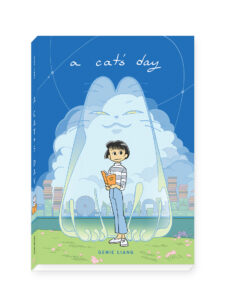 Original draft of an interior page from 'A Cat's Day' graphic novel by Genie Liang, published by Shortbox.

Artist: Genie Liang
Title: 'A Cat's Day' 2nd Draft – Page 3
Medium: Pencil on Paper
Dimensions: 4.25" x 5.5" // 8" x 10" (Framed)
Year of Creation: 2022

Genie Liang is an independent artist from Canada. Their work is known for its minimalist lines, whimsical characters and harmonious colours. They specialize in the feeling of flight; translating it into original paintings, comics and illustrations for album artwork.
You can find more of their work on the artist's WEBSITE and INSTAGRAM.
In stock